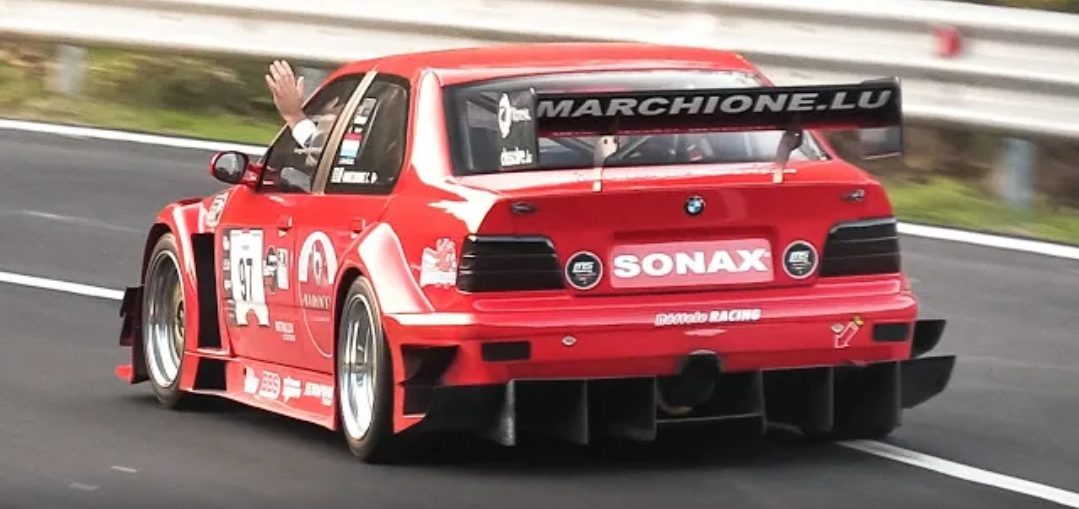 This special BMW E36 is a very successful Berg Cup monster built, developed and transformed by German driver Dieter Rottenberger during many years of activity in hillclimb racing(2010-2015).
The car used as a base was a 1994 318is STW (Super Tourenwagen) Cup car which was originally powered by a BMW S14 engine taken from the E30. In 1995 there was the introduction of a new E36 STW based on the road-going 320i but instead of the 6-cylinder engine a race engine was developed and called S42B20.
This one is basically the racing version of the 1.8L M42 engine used in the street-legal 318is featuring individual throttle bodies (ITBs), displacement increased to 1,999 cc, two fuel injectors per cylinder, an increased compression ratio, a different cylinder head and more mods.
Since the power output of the S42 increased a lot during the years, reaching a total of around 320 hp, many 318is STW chassis were upgraded with the latest 320i specs (both engine and aero) in order to still be still be competitive in the various championships.
That's the case of the car in this video. Even if the base car was ready to run, Berg Cup is always full of formidable, lightweight and hillclimb-focused machines so Dieter put a lot of effort into developing a great aero kits and reducing the weight of the car as much as possible (around 840kg after the weight loss diet).
A softer suspension setup was also required for the often bumpy mountain roads. It took some times for Dieter to reach some results with this car but year after year it continued to improve. In 2013 the 320i was able to finish on podium in 10 of the 12 total rounds of the Berg Cup emerging as overall champion. This car was also driven by Jörg Weidinger alternating with Dieter himself.
After a few years of inactivity, the car has been purchased by Luxembourger driver Canio Marchione who further modified it (adding paddle shifters and other few mods) and drove it during 2018 and 2019. Watch him in action on Gubbio's hillclimb course, in Italy, during the 2018 FIA Hillclimb Masters race!
Leave a comment