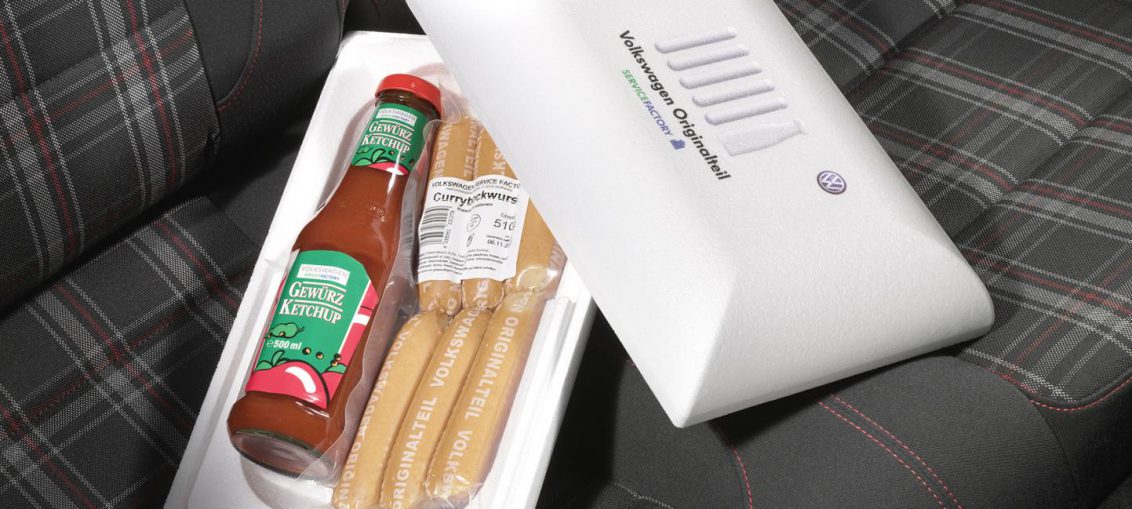 In 1973 the high word came from Volkswagen's audit office: it is cheaper – given the large numbers of VW employees eating – to start making curry sausages themselves. And so it happened. Volkswagen's curry sausage factory now makes almost 7 million sausages a year.
Since then, employees no longer function without it. In fact, two years ago the employees were furious about a new recipe for the ketchup and the "ketchup gate" was created.
The recipe for the spice mix is ​​top secret and only known by a handful of people. Volkswagen does state that they steam the sausages for 100 minutes at a temperature of 176 degrees celsius and that the fat percentage is only 20 percent, whereas with curry sausages it is usually 35 percent. You serve them in pieces, with a big blob of (curry) ketchup and curry powder. And some fries next to it, because you still have to get vegetables.
The sausage is so deeply rooted in Volkswagen's corporate culture that the brand crowned the meat lollipop as "Volkswagen Originalteil" or "original Volkswagen part". The part number was included in the catalog and the number of the Volkswagen Curry sausage is "199 398 500 A". For the ketchup, the number is "TN 199 398 500 B." Since 2010, Volkswagen has also been making a vegetarian version, the part number of which we could not find out so quickly.
CAN YOU ORDER THE VOLKSWAGEN SAUSAGE?
So you would think, if something is a Volkswagen Originalteil, with a part number, then you should be able to order it, you would say. So some guys called the local car parts store and asked if they could order part 199 398 500 A. Unfortunately that was not possible.
So they tried the Volkswagen dealer, but even the official dealer could not stop their hunger. Unfortunately, Volkswagen Netherlands says that they no longer supply the sausages to dealers because of the rules regarding the delivery of food and health.
Leave a comment