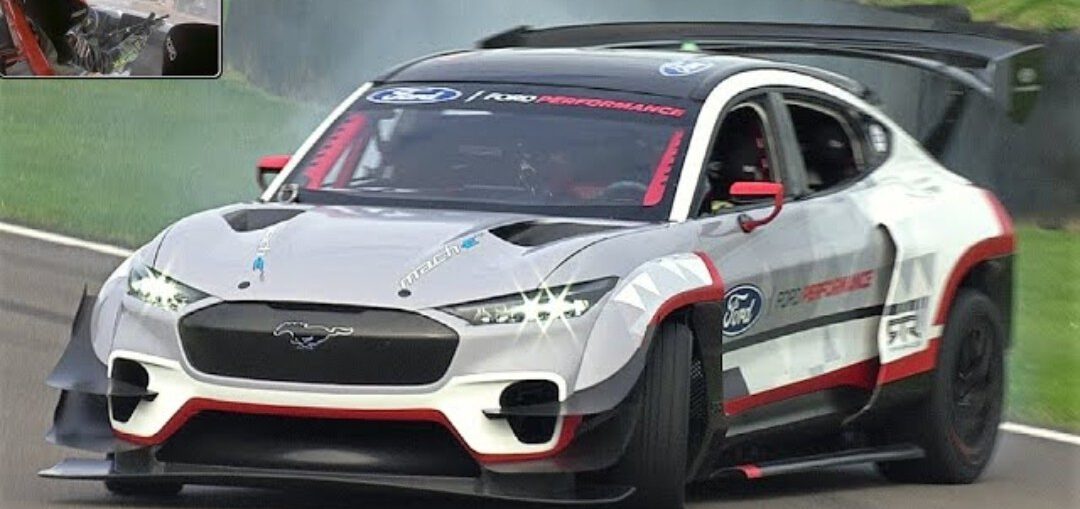 One of the most interesting and innovative machines present at Goodwood Speedweek was the Ford Mustang Mach-E 1400 built between RTR Vehicles and Ford Performance, and driven by Pro Drifter Vaughn Gittin JR. With around 1400Hp, all the Torque in the planet and now beginning its development stage, it was very interesting watching this "silent" Monster in action.
Built to tackle different kinds of Motorsport, from Time Attack all the way to Drifting, it even has Four Seats (!!!..), and although it still isn´t tuned perfectly to maximize its perfomance on the Grip-oriented disciplines, it was possible to see how effective it was on the Drift Course.
Fitted with a custom Hand-Brake and with all that power and torque cleverly distributed between any wheel needed at the time thanks to the wonder s of Torque Vectoring, it certainly gave us a glimpse of what might be coming in the near future.
And on that point, this is certainly a machine we can see tackling Hillclimb events. With an highly aggressive, bespoke Aerodynamic package producing 1000Kg of downforce at 260Km/h and totally unaffected by power losses due to altitude, this looks like match made in Heaven for a place like Pikes Peak or Trento Bondone… Guess only time will tell…
00:00 Paddock Footage
01:24 Track Footage
02:05 Onboard Drift Run
Leave a comment