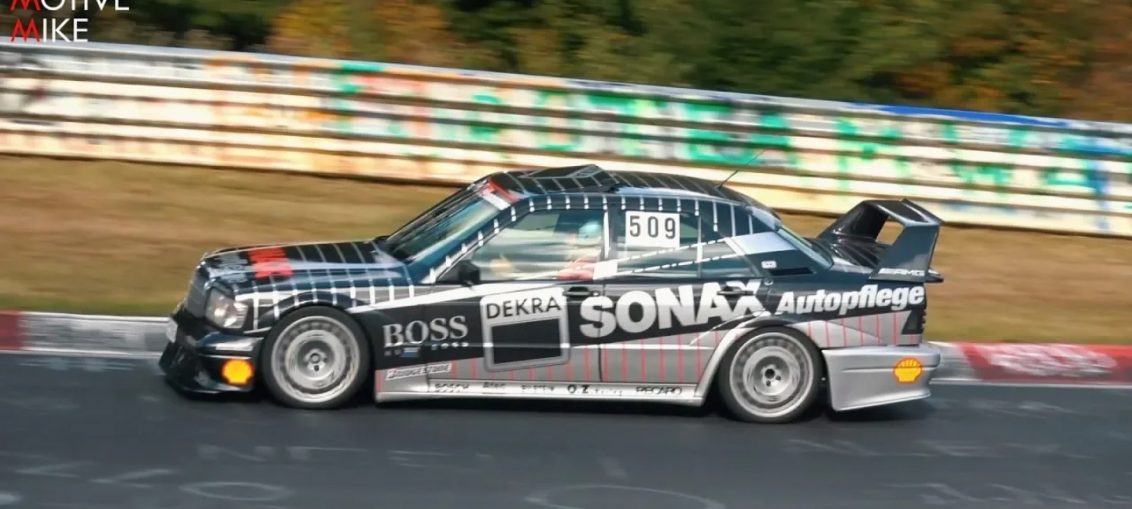 During the Scuderia Hanseat at the Nürburgring this very rare Mercedes-Benz 190E 2.5 16 EVO II was filmed screaming down the track!
This 190E EVO was the competitor for the BMW M3 Sport Evolution. Only 502 units of the Evolution model were produced. As mentioned 500 were made in "blauschwarz" blue/black metallic. But the last two, numbers 501 and 502 were made in astral silver.
Mercedes initially homologated the 190E for racing in 1985, and the model featured a 2.3-liter four-cylinder with a 16-valve head that had design input from Cosworth. In competition trim, these vehicles packed 252 horsepower (188 kilowatts). Early on, it was up to privateer teams to campaign the machine, but Mercedes began offering factory support in 1988.
In 1989, the company introduced the updated 190E 2.5-16 Evolution that featured a larger, 2.5-liter displacement and an output of 326 hp (243 kW). For 1990, Mercedes revised the car once again for the 190E 2.5-16 Evolution II, and additional tuning pushed the engine to 367 hp (274 kW) in race trim.
The incremental upgrades proved quite successful. By the 1992 DTM season, Mercedes' drivers Klaus Ludwig, Roland Asch, and Bernd Schneider finished one-two-three in the driver standings, respectively.
Mercedes built 502 examples each of the two Evolution models, and their values have been on the upswing. For example, RM Sotheby's auctioned a lightly modified example for $220,000 in January 2017. In October 2016, one of them sold on eBay for $145,000. In Europe, Silverstone Auctions got 202,500 pounds ($262,850 at current exchange rates) for an Evo II last year.
Leave a comment