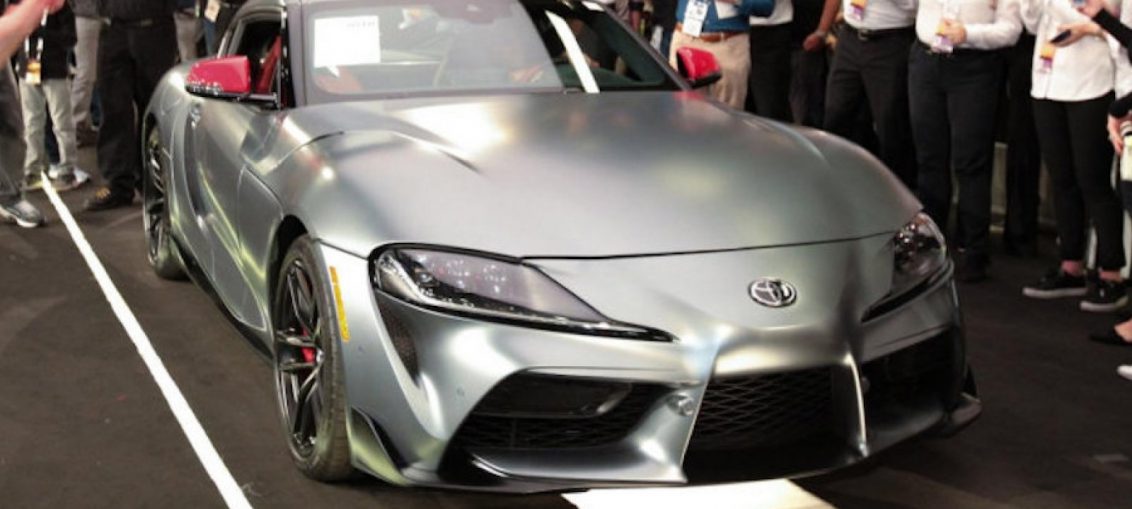 YOU NEVER GUESS FOR HOW MUCH MONEY THE FIRST TOYOTA SUPRA IS SOLD
It seemed to Toyota a good idea to sell the very first one of the new Supra to the highestbidder. And so thet brought it to the annual Barrett-Jackson auction in Scottsdale in the US state of Arizona. And what a bright idea it was!
The Toyota Supra was one in GR trim, based on the already special Launch Edition, an introduction version of which only 1500 will be made.
In addition to this, the bodywork of the GR Supra in question was painted in the exclusive Phantom Matte. Red ornaments, including the leather furniture, a dashboard finished with carbon and a signature of CEO Akido Toyota himself on the engine cover complete the special looks.
Plus the fact that the money would be shared by two charities forhwar veterans.
BIZAR AMOUNT OF MONEY
The Toyota GR Supra offered at the chassis has chassis number #20201, which stands for the year 2020 and the 1st one – was announced with a lot of noise. And that got some people in the room very enthusiastic to raise their hands.
So enthusiastic even that there was already a bid of one and a half million dollars on the auction board. And it wasn't over yet. In the end the hammer fell – hold on – at 2.1 million dollars!
Leave a comment