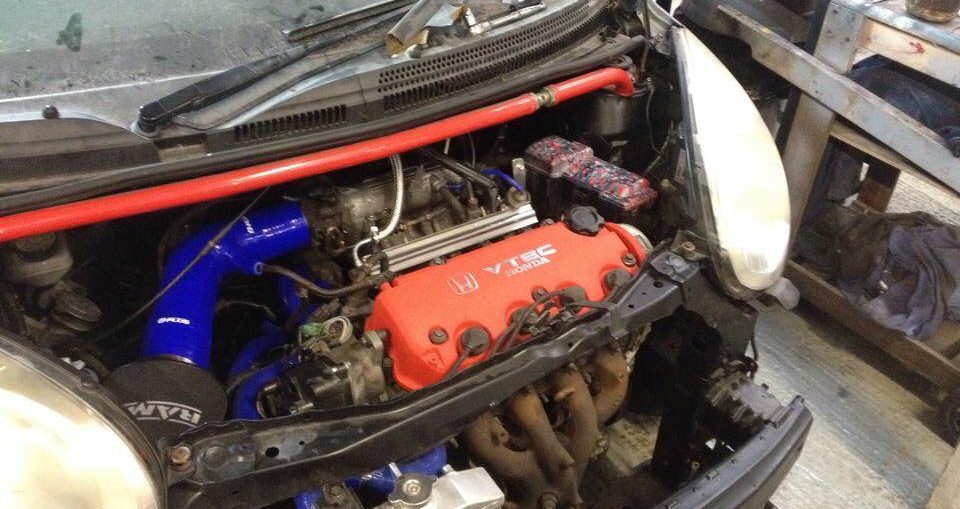 Like you have seen before, we shared a picture of a Citroen C1 with a VTEC engine in it on our Facebook page
We found the owner of the C1 and asked him what was done and the story behind it.
Here is his story:
One day i was testing out my new track wheels i had just bought up the black mountains, in wales, till my bottom end went due to oil starvation. Because of this a friend of mine recommended me VDM Motorsport to do a conversion. I messaged VDM and they told me it would take a while to finish but i was going to the Nurburgring in 3 weeks this wasn't an option for me so i bought another standard engine and at the same time found myself a nice decat and exhaust system. When i was at the ring i had quite a few good laps in low 10s BTG, but the best i could get on the touristenfahrten (tourist day) was 10:09 BTG. This is quite a busy day on the track most times. Although i was pleased with this time seeings though it was only a one liter engine, it pissed me off that i couldn't get sub 10 or lower so as soon as i got back i arranged with VDM to do the conversion. The conversion which i am still in the middle of doing is a d16z6 engine. This is a rare D -series VTEC engine. New engine mounts had to be custom fabricated to fit the engine in the bay. Upgraded fuel system using walbro 255 fuel pump has been installed. the engine has had a custom stand alone loom made and fitted by VDM. While doing the swap, the clutch system also had to be changed as it has gone from being a cable clutch to hydraulic. Many other things have also had to be changed and adapted to fit the C1 as nothing is a direct fit.
The car is not quite ready. It should hopefully be running within a few weeks when the final touches have been done. I will receive the car back N/A at around 135bhp which at weighing in around 790kg (possibly less as now stripped with bucket seats) equals to 170bhp per ton. I will be looking into a brake setup and i already have all parts to forge and turbo the engine. So once all gets ready, the engine will be sent off to be forged then another trip to VDM will be arranged to set up the td04 hybrid turbo setup. The aim is around 300bhp which the engine is more than capable to handle once forged with the correct supporting modifications. Hoping to take the C1 back to the ring this august to beat previous time by hopefully quite a bit!
You can follow the VTEC C1 on his own Facebook page: VTEC C1 or on Instagram
Leave a comment