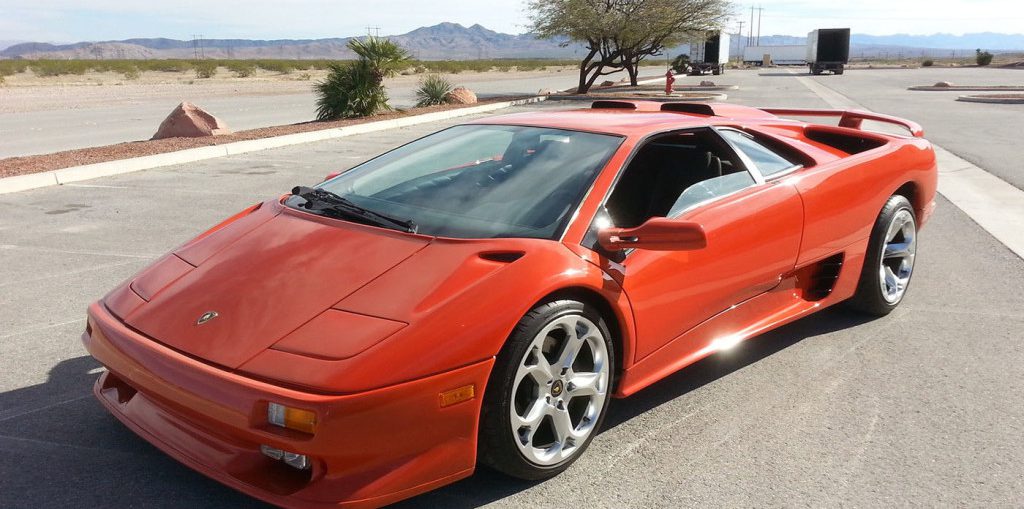 The project started with a Diablo that suffered fire damage and was without a powertrain. The current owner installed a 6.2 L LS3 V8 mated to a Porsche G50 transaxle with taller 4th and 5th gears. The supercar now has more power, better fuel economy (23.8 mpg), and is cheaper to repair.
The car in this story started his life as an authentic 1995 Diablo which suffered an engine fire and went into storage while its owner decided what to do. At a later point the owner was visiting Renegade Hybrids to ask questions about another Diablo from a former Lamborghini mechanic.
While there he got the idea of using a LSx V8 after seeing the engine swap projects they were working on. However, it took several years and a lot of determination to turn that idea into something special.
After considering all his options, the owner chose a LS3 V8. The engine was installed using custom engine mounts that connected the mounts on the frame to the factory LS3 engine mounts. This allowed the swap to be completed without hacking into any of the factory supports.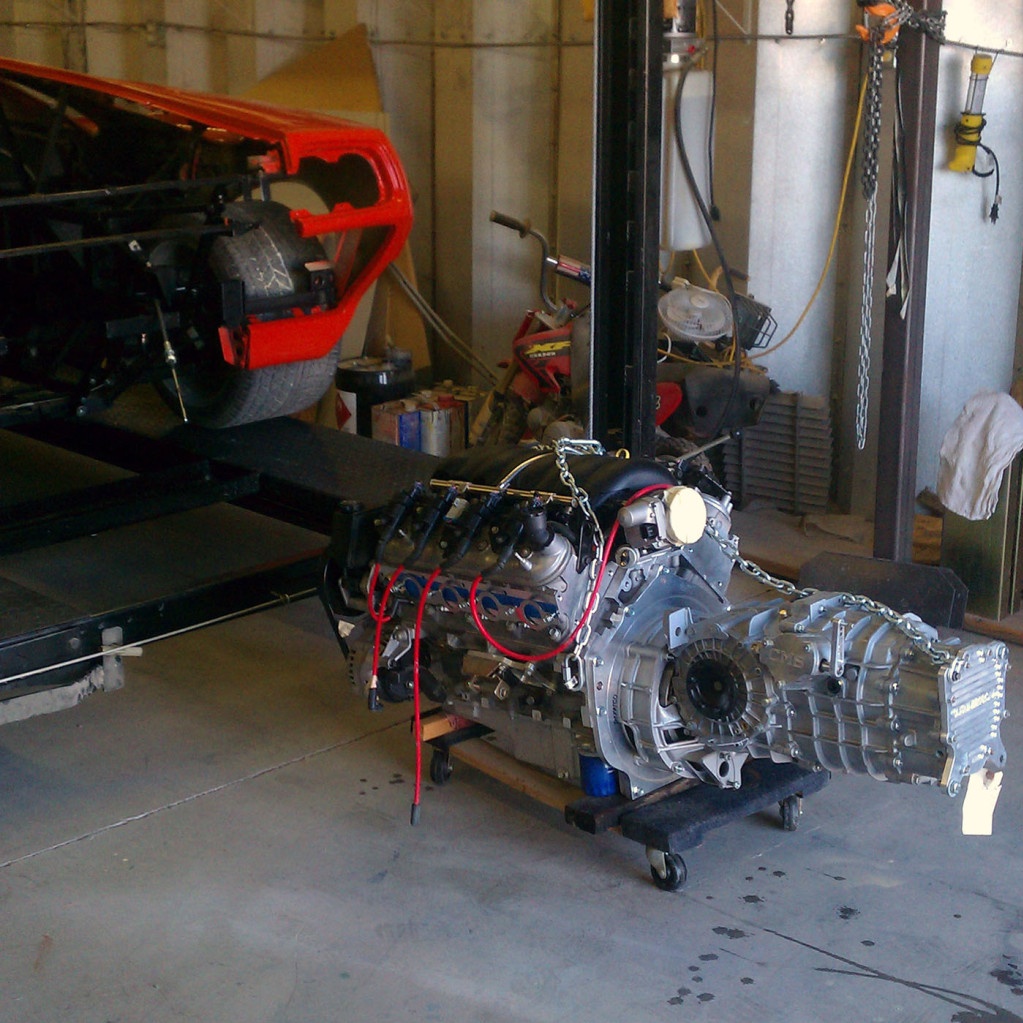 The engine produces 477 horsepower and 494 lb-ft of torque to the wheels or around 550 horsepower at the crank. Other than a mild cam upgrade and a nice tune, the engine is pretty much stock. The engine was paired to a heavily modified Porsche G50 transaxle purchased through Renegade Hybrids.
Other modifications performed by the owner were seats from a 1998 Roadster with custom heaters installed, cruise control, cup holders, custom exhaust, and even a receiver for trailer connection.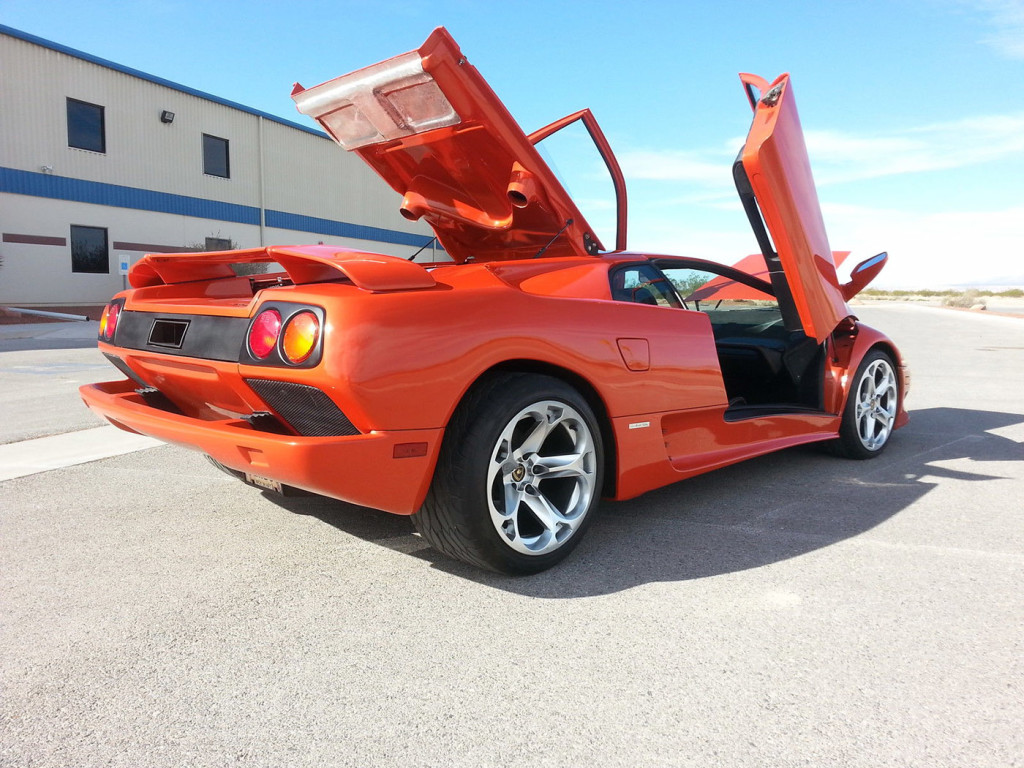 A custom grill was made to allow the exhaust to exit above the bumper instead of under. The wheels were changed to Murcielago Hercules to give the car a more modern look. Even the gorgeous orange pearl paint was applied by the owner. Future modifications include changing the air cleaner box to a cone style and installing a twin-turbo system.
Check out the pictures below, leave a comment and shate this one with your friends.Some might wonder why not just find another Diablo engine? Unfortunately the reality is more complicated and expensive.
A typical used long block replacement can go for $28,000 and the two computers required to control it cost $11,000 each.You also should remember the engine and surrounding components were destroyed by fire.
Building this to factory specs would also require a new gearbox, exhaust system, radiators, and wiring harness. When added together, it would cost more than the overall value. Another reason the LS3 was chosen – it was most powerful setup that would fit without degrading the structural integrity of the frame.
For as much flack as the LSx "ancient" pushrod design gets, it keeps the engine size incredibly compact.There are many benefits to having the LS3 as a power plant. Besides the LS3 being less expensive, it also costs less to repair with an abundance of parts and knowledgeable mechanics.
Lamborghini engines are dependable but if one were to have a failure you generally need to ship the car to a dealer for repair especially if you happen to be a road trip. Lamborghini is also discontinuing parts on these cars. Some owners have foreseen this and sold their Diablos because of it.
Another benefit is the owner can drive the car as much as he wants. Most Diablo owners want to enjoy their car by driving it but are cautious because every mile adds to the depreciation.Even though the owner loves the final outcome it doesn't mean it was an easy path. Several times throughout the build the owner was frustrated enough to consider selling it.
A big motivating factor to finish came when a collector with three Lamborghinis wanted to purchase this project to enjoy while his other Lamborghinis sat. If the owner had to do it all over again, the only change he would consider is an engine with a thinner oil pan such as the LS7.
Although the owner chose an American V8 he still loves and respects Diablos and their factory V12s. He took special care to make sure any modification would not compromise a future owner's ability to return the car to factory. He never set out to upset anyone, only to find a practical solution to a problem.
In the end he simply built a beautiful Diablo with an engine powerful enough to compliment the look, and a car which can inspire a young boy to dream of someday owning his own Diablo.
Leave a comment