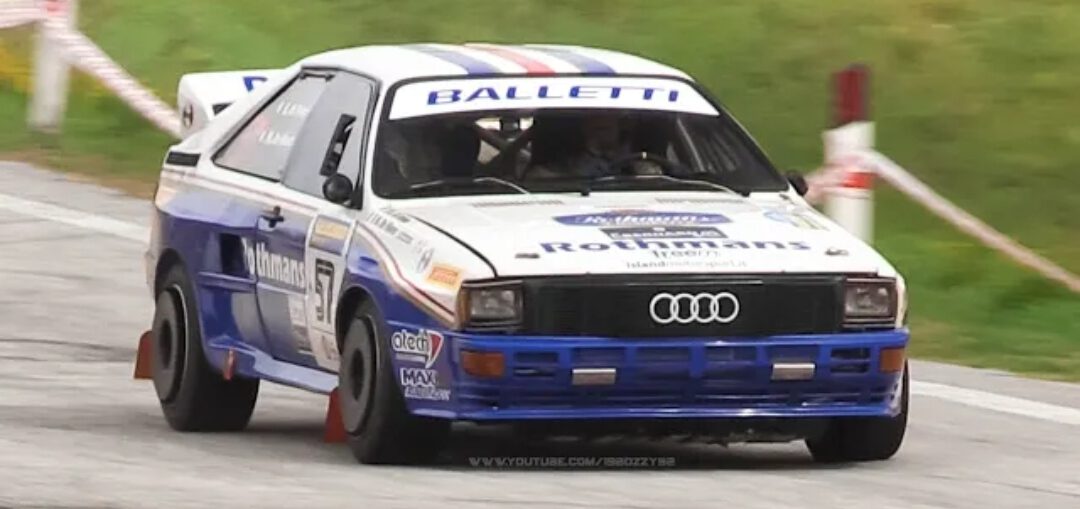 This video is about an Audi Quattro A2 built and managed by Balletti Motorsport and which I recorded at various events in the past years. The original Audi Quattro (Ur-quattro) made its first rally appearance in 1980 after FISA (the name of the FIA's motorsport regulatory division in those years) legalized four-wheel drive system.
Car companies were not keen on using 4WD as it was generally felt that the extra weight and complexity of 4WD systems would cancel out any performance benefits. Audi immediately contradicted them and after the official championship debut in 1981 under the Group 4 class, a series of successes began that channeled the world of rallies in the 4WD direction.
In 1982 FISA decided to separate the rally cars into three classes: Group N, Group A and Group B. Audi continued and further developed their promising Ur-quattro and in 1983 they obtained the Group B homologation for their Audi Quattro A1.
Compared to the Gr. 4 car, the modifications for the A1 were marginal: in addition to an increase of about 20 HP of power, the cars benefited from wider wheel arches, different gear ratios and the presence of the oil radiator inserted in the larger rear wing. The Quattro A1 only did the first 4 rounds of the 1983 championship (winning two of them) after being replaced by a new evolution version: the Quattro A2.
In each rally group introduced, there were classes based on engine displacement (with a 1.4 equivalence factor for forced induction engines). Each class had different weight limits, maximum tyre sizes, etc. The most important classes for Group B were the 3000 cc (2142.8 cc with turbo or supercharger), with 960 kg of minimum weight, and the 2500 cc (1785 cc) ones, with 890 kg.
The original 2144 cc of the ur-Quattro/A1 in fact, multiplied by 1.4, resulted in a displacement of slightly more than 3 liters, which involved a minimum weight of 1005 kg. So the first and most important modification done for the Quattro A2 was to reduce the displacement of the 5-cylinder engine to 2109 cc in order to be back in the previous class (where Lancia 037, MG Metro 6R4 and Ford RS200 were fielded).
The car was able to produce around 370hp. Externally the Quattro A2 is only recognizable for the the additional cooling air intakes for the rear brakes (located on both sides between the door and the rear wheel arch). Hannu Mikkola won the drivers' championship in 1983 while in 1984 Audi managed to win both the constructors and the drivers' championships with Stig Blomqvist. For the 1985 season a new Group B car was built and homologated based on the special short wheel-base Audi Sport Quattro.
Leave a comment