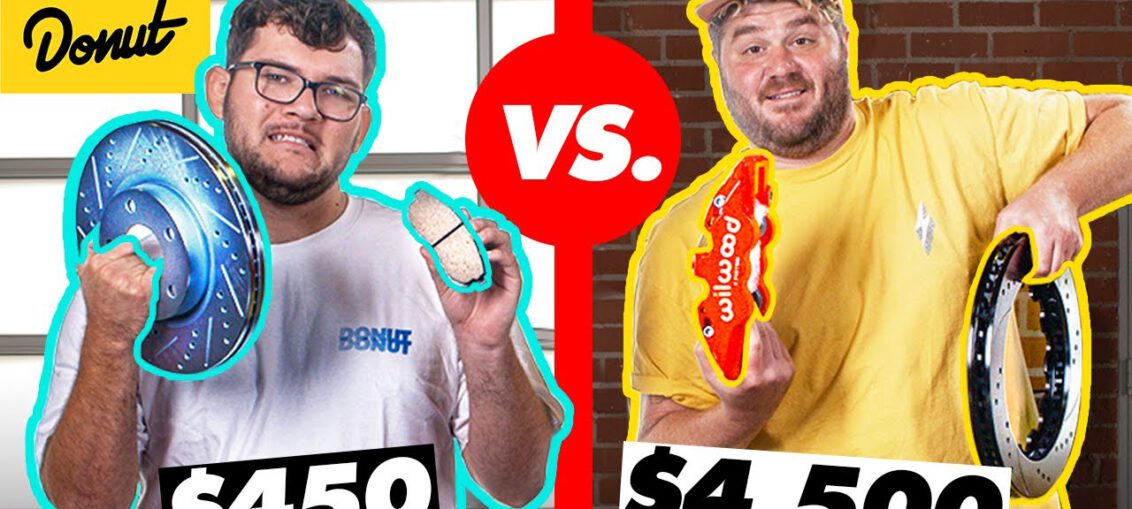 $450 brake upgrade kit vs. a $4400 big brake kit. Does more expensive mean more better? And is it worth it?
Donut bought two identical 350z's and we have been modifying them to be fun, daily drivers that you can take to the track. James Pumphrey and Zach Jobe are on Team Hi, and their Z gets the expensive parts. Nolan Sykes and Aaron Parker are on Team Low, and their 350z gets the cheap parts.
Afterwards, the teams test them to see which components are actually worth spending the money on. So far, we've installed coilovers and new wheel and tire combos on the 350Zs, and now we're moving on to brakes. The ability to stop well is probably one of the more underrated features of a car.
But if you're planning some serious go-fast mods, like the turbo kits coming soon, or you want to turn yourself into a track rat, braking should be a priority. It's just plain safer. And if you're looking for the fastest possible laps, being able to brake harder and later means you'll be shaving off time. So we want to see what kind of results we can get from a really basic brake upgrade versus a full super expensive brake kit.
This time, Nolan and Aaron are getting a lot less total stuff for their money. Their $450 basic brake upgrade kit just comes with drilled and slotted rotors, braided stainless steel brake lines, Centric Posi Quiet brake pads for the street, and some Motul brake fluid.
Low Car is keeping its stock sliding calipers, which aren't quite as confidence-inspiring as opposed-piston calipers. Their design makes them flex more, so the pedal might not feel as good as James' will after his brake upgrade.
Hi Team is getting a full-on, 4-wheel upgrade with Wilwood 6-piston front calipers and 2-piston rear calipers, bigger 13-inch front rotors, pads, and braided stainless lines to the tune of $4400. Is more expensive more better? Watch to find out.
Leave a comment