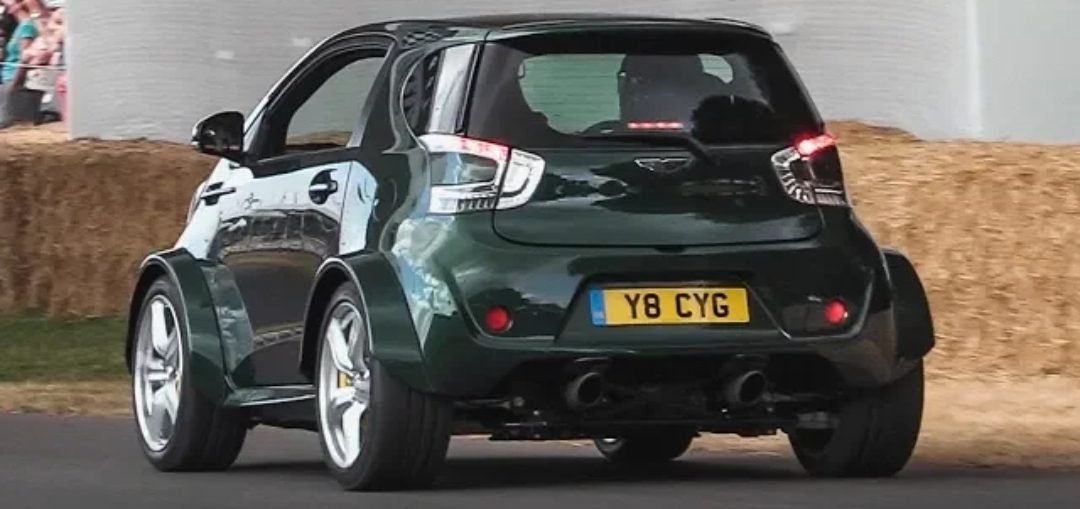 Imagine the scene. During the first day of the 2018 Festival of Speed Youtuber 19bozzy92 was recording supercars and new cars coming out their paddock area, heading to the start of the hillclimb course. He was recording one of the brand new Aston Martin's and suddenly he heard a V8 revving.
As soon as he turned his head he saw and understood that sound came from this little Aston Martin Cygnet, while h3 was expecting a total different car!
Guys at Aston Martin decided to build this crazy project placing the 4.7-litre, 430bhp V8 engine you find in the Vantage S into their little Aston Martin Cygnet (or Toyota iQ) creating the "Ultimate city-car".
Thanks to this swap the car now should be able to accelerate from 0 to 100 km/h (0-60 mph) in just 4.2 seconds and reach a top speed of 270 km/h (170 mph).
The car isn't really lightweight with its 1,350kg. Of course it was necessary to do a lot of other works and improvements such as widen it, putting big tyres and brakes, adding a roll cage inside etc.
Watch the video below to see this little monster and leave a comment below or share this one with your friends.
Leave a comment