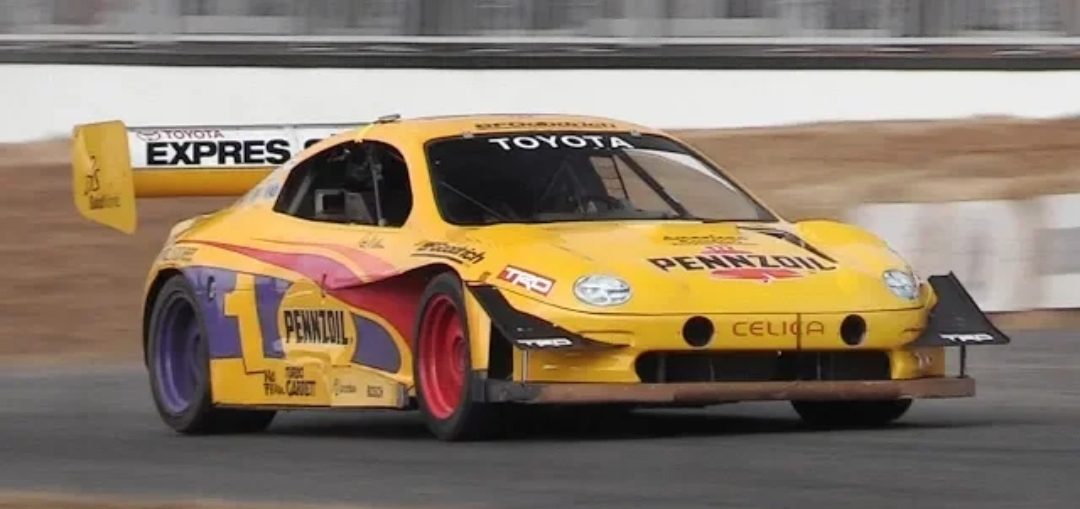 I've always had a little dream of seeing this car in person one day, and that day has come! Do you remember the mighty Suzuki Escudo in Gran Turismo 2? Fastest car in the game indeed but in the real world it had to deal with Rod Millen and his Celica (and Tacoma too).
In 1994 this Celica set the new record (10:04.06) on the Pikes Peak hillclimb, at that time the course was dirt. The shocking things are this record was 40 second faster than the previous one and it stood for 13 years.
The only reason it was broken is the lower section of the course was paved, so times began to fall…
Of course more than nothing remains of the original Toyota Celica GT 4WD used as a base. As stated on TRD website "Only stock Celica part was the windshield" LOL.
As you can see in the video the car is basically a tube chassis silhouette (body resemblance is made of full carbon fiber) powered by a TRD 2.1-liter turbocharged 4-cylinder engine which is able to produce up to 850hp moving something that only weighs 885 kg, so mostly a 1:1 power-to-weight ratio.
A underfloor venturi tunnels was tested but when Rod and engineers found out they didn't work when the car was sliding sideways, they did adjustments to the slip angle plus other stuffs and the game was done.
Enjoy Rod Millen, now 67 years old, still driving flat out up the Goodwood hillclimb course during the 2018 Festival of Speed!
Leave a comment