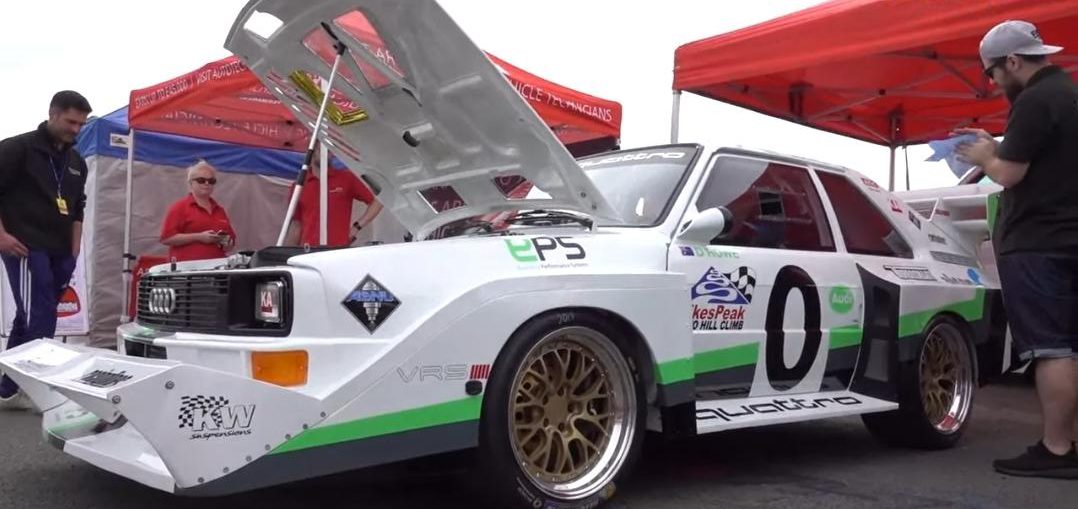 This is a unique moment actually. Dave Rowe of EPS Motorsport gave their 891HP Audi Quattro S1 E2 Pikes Peak Car a run down the 1/4 mile strip, for the first time ever at Santa Pod Raceway for the DAS Auto Show, running at mid boost, he put in a run of 10.51 @ 136mph. Not bad for a car setup for climbing mountains! This car has so much history, for an in-depth write up, check out this site Speedhunters.
But in brief, it is (as the original) two cars joined together, which make the S1, the rear half of the Audi Quattro Coupe, and the front half of the Audi 80 Typ 81.
A fully forged 2.5l TTRS engine was used, and with the help of a Precision 6466 turbo, Motec ecu, 1100cc direct port injectors and a whole lot of other work (including having nitrous plumbed in), it now produces 891HP and 908Nm of torque at 2.4bar of boost.
It also has a Drag Power Systems 01e 6 speed sequential gearbox. Because of the weather, Dave never got to turn the boost up and do another run. Hopefully we will see back out on the track again.
Watch the video of this awesomely built Audi S1 with 2.5L TTRS engine below and leave a comment or share this onr with your friends. Follow us also on Facebook!
Leave a comment