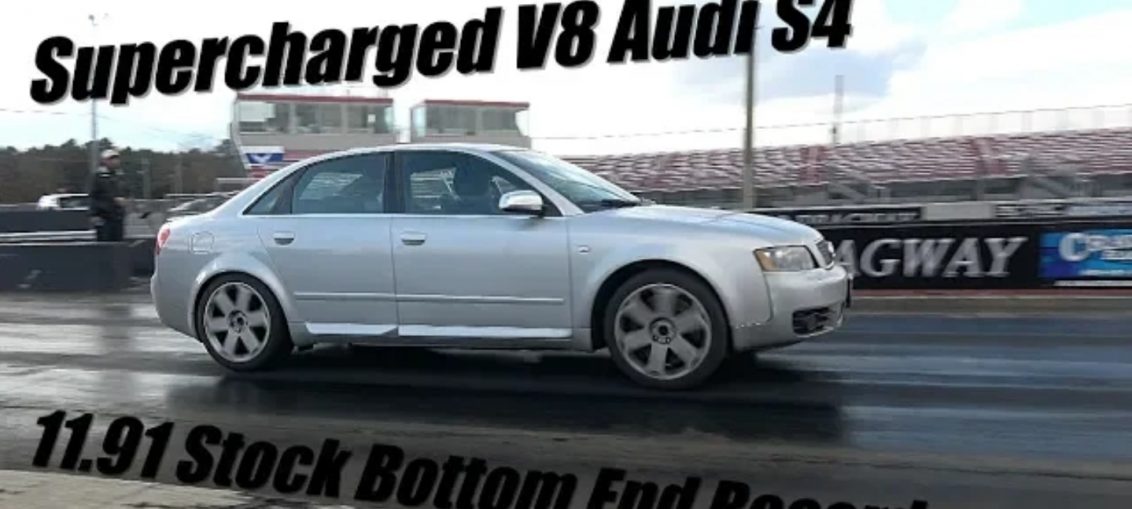 JBONES in his JHM stage 1 supercharged Audi S4 (B6) V8 broke the stock bottom end record recently. The owner has plans for a nice build over the winter, and I hope we can catch up with him again to see what it will do.
–BUILD LIST–
JHM Parts:
Stage 1+ supercharger kit pushing about 7 psi
Version 2 headers with 2.75 inch mid-pipes and non-resonated catback exhaust
Modified intake manifold with port matched spacers
Lightweight flywheel and 5R clutch
All of their shifter parts: custom delrin knob, short throw shifter, solid linkage, delrin stabilizer rod bushing, upgraded cross rod
OEM RS4 front brakes with lightweight front 365 mm rotor rings
Rear BBK
Misc:
OEM RS4 0A3 transmission and B6 A4 rear diff swap
Wavetrac front and rear limited slip differentials
USP Motorsports metal slave cylinder and SS line conversion with a MA performance clutch delay valve
Killer Chiller setup including the drag valve and water bypass valve
AKmotorsports tubular front subframe
OEM european RS4 seats front and rear
Probably a bunch more suspension and other mods. Otherwise with a stock well maintained engine, Avus wheels, and stock sized 235/40/18 Michelin Pilot Super Sport tires. According to the scale at Atco the car weighs 3,790 pounds without me in it.
Leave a comment