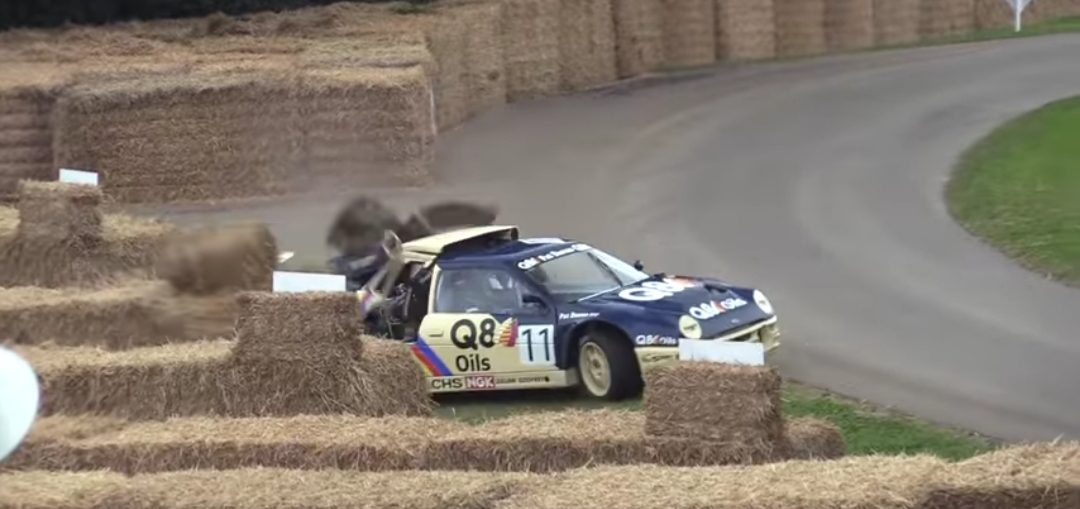 Ouch! Even we felt the pain when we saw the crash on this video! First of all the crash happened in an opposite chronological order compared to what you see here in the video.
Yes because unfortunately the owner of this RS200, former rallycross driver Pat Doran, crashed it during the very first day of the 2017 Goodwood Festival of Speed but, after a hard and long night work, the car was able to rip up the Goodwood House's hillclimb course in the following 3 days of the event.
It's nicknamed "Rosie" and this Ford RS200 Evo 2 has undergone development since the early '90s when Doran was using it in the European RX Championship. There have been done a lot of work!
A new modern turbocharged has been added, the H-pattern gearbox replaced by a Quaife six-speed sequential unit such as the suspensions and brakes which got bigger and better.
The standard Ford-Cosworth 1.8-litre turbocharged engine was punched out to 2.1-liters for all RS200 Evolution models (and called by Cosworth "BDT-E") and in this particular monster is now able to produce around 800HP and 800+ Nm of torque on a car that weighs less than 1,000 Kg!
Watch the video of this beast below to the RS200 in action and leave a comment or share this one with your friends! Follow us also on Facebook! @Turbo and Stance. Thanks!
Leave a comment