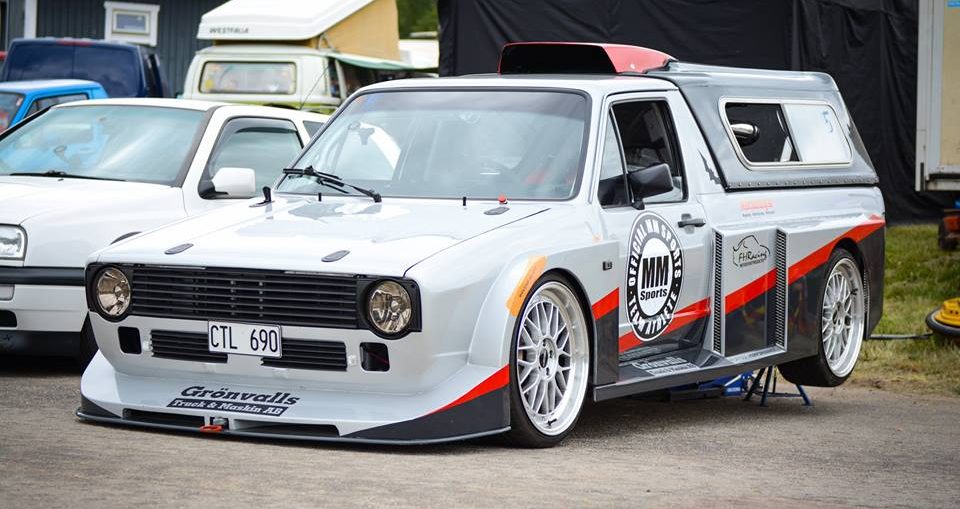 While surfing on the internet we stumbled up on this strange but awesome! looking Volkswagen Caddy. A mid-engined, Volvo turbo-powered, RWD 1988 VW Caddy widebody racer isn't something you see every day!
While most people can't assemble an Ikea bookcase, some individuals rise above the rest, creating a masterpiece with their hands. Marty Cronvall from southern Sweden is the latter – a skilled fabricator with a humble approach and simple hardware who has created greatness.
Transforming a beat-up poor man's workhorse into an awe-inspiring street machine that would look at home next to a Group B rally car.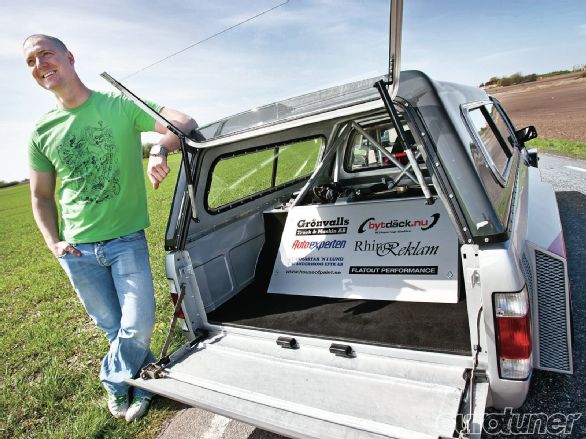 As a truck mechanic, Marty had all the technical knowledge, along with a knack for brute functionality and no-bullshit construction.
His building technique was especially cunning. While big car companies use CAD-software with advanced modeling, Marty kept it simple, developing the chassis mock-up in Lego so he could get a feel for the construction.
Armed with a Lego Technic-kit he constructed a plastic framework to evaluate the rigidity and function of the proposed chassis. Bending and flexing the prototype, he made changes until he thought a functional, real-world frame was ready to be built.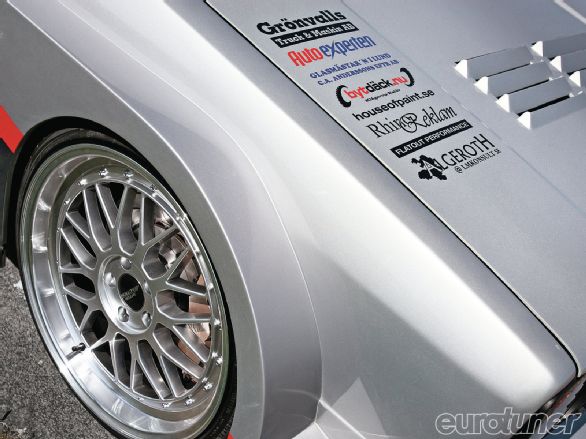 Steel tubes were laid out on the garage floor, measured, cut and welded to match the scale model. Armed with an electric saw and TIG-welder, he cut up the body of his '88 VW Caddy and integrated the tubular chassis. A car was born.
Originally, the plan was to build a Golf truck – a GTI with a flatbed in the rear and lots of performance. It had to be unique, fast and (most importantly) a Volkswagen. But with a Volvo 240 rear axle in the garage, power slides were a major component in the plan.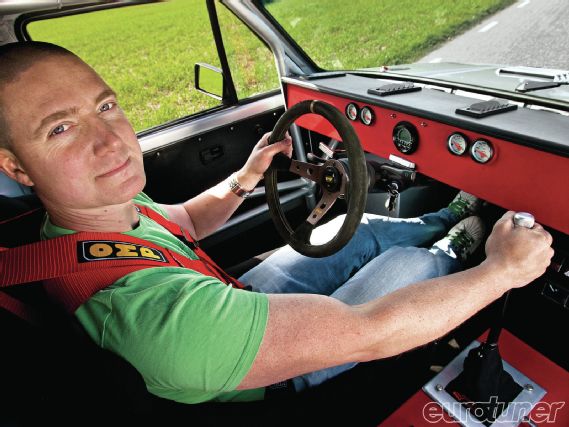 Built to play on the drag strip, capable of time trials and drifting, but street-legal, the demands on this project were enormous. But as work progressed, it took a turn for the unexpected.
Volvo power
Having previously built several VWs, Marty found the small engines fragile and hard to tune. Being a Swede, he had access to an infinite number of Volvo engines, so this was deemed a much better choice.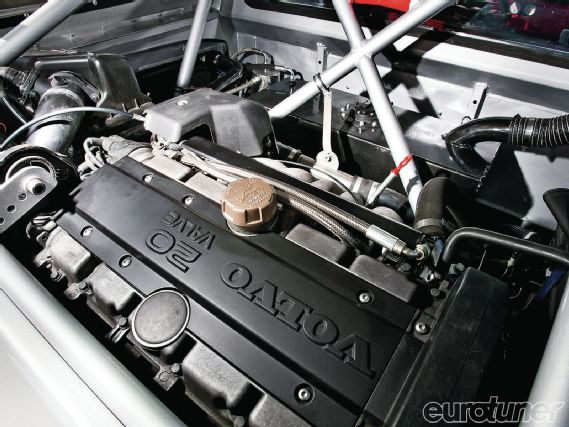 After all, the parts could be found almost anywhere and everywhere in Sweden. Plus the favored 211hp B5204T engine from the Volvo 850 T5 was well documented, thoroughly built and very easily tuned.
As a result, a donor Volvo V70 was purchased and gutted to harvest its powerplant. But problems arose when trying to fit the turbocharged five-cylinder in the stock location.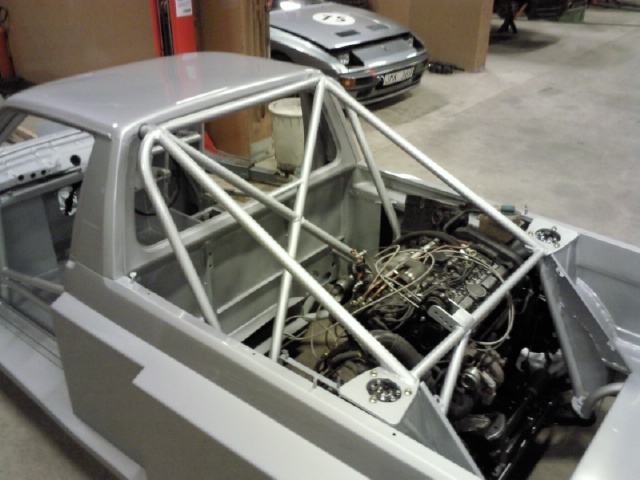 "Fitting the engine up front was a tight fit," Marty explained. "I'm quite tall, so there wasn't room for my legs with the five-cylinder notched under the firewall. So I took a step back and decided to put it in the back, subframe and all!"
''Taking the transverse-mounted, front-wheel driven, subframe-equipped Volvo engine and putting it in the back actually required minimal modifications.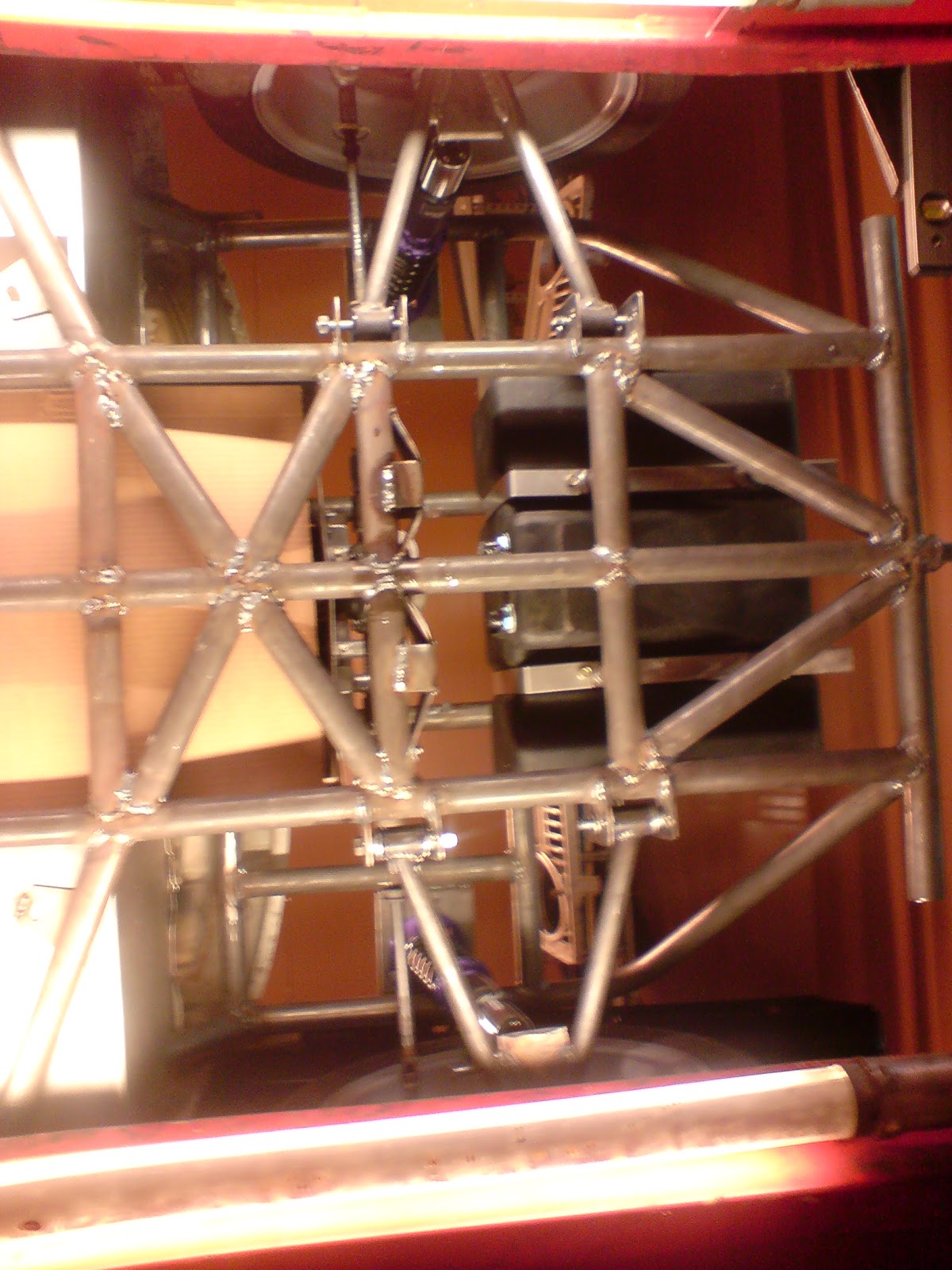 This was a stroke of genius. Taking the transverse-mounted, front-wheel driven, subframe-equipped Volvo engine and putting it in the back actually required minimal modifications. It also improved weight balance and made it possible to use the stock transmission, essentially making the Caddy a mid-engine supercar.
Bolting the subframe into his tubular chassis, the project started to look more Le Mans than Wolfsburg. And by putting a Porsche steering rack in the front, the Caddy got even more exotic.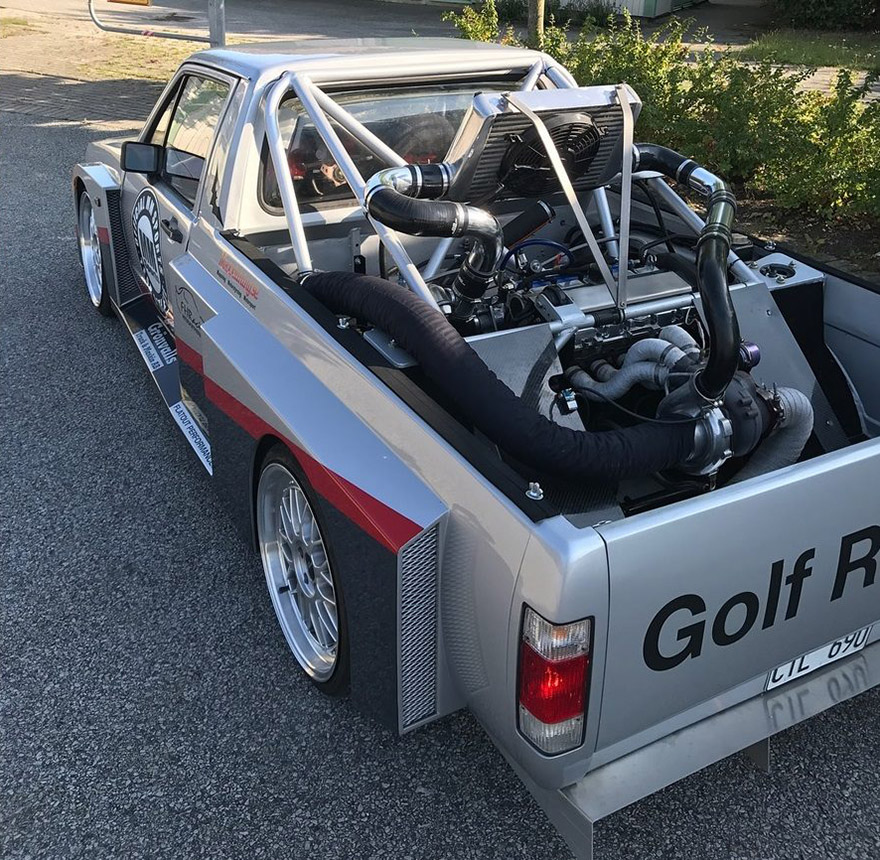 Finding some rust during the teardown, Marty simply cut the roof out and replaced it with a custom composite panel, shaving top-heavy weight. He also created a thin fiberglass rear hatch to lighten the car further. And there's still enough room to fit a few bags of cement in the rear if Marty should ever need to!
B5204T inline-five from a Volvo 850 T5 wagon that makes 500 horsepower thanks to a Garett GT3782 turbocharge is plenty of horsepower for this lightweight, rear-wheel drive machine, the owner is itching to play with the turbo and software…
Simple sophistication
As Leonardo da Vinci said, "sophistication is the ultimate form of simplicity." Just as simple and cunning was the construction of the rear chassis bracing, which tied together the engine, shock towers and chassis.
The process involved creating a rope web to connect suspension points before replicating it in steel tubing for a triangulated rear chassis with supreme stiffness.
Further custom suspension parts were designed and fabricated by Marty, including the front strut towers to house D2 Sport coilovers with his own camber plates. The custom lower control arms, complete with knife-edge sway bars, give even more control and adjustment.
Stopping power comes from 330mm D2 front rotors with huge eight-piston calipers up front, while the rear uses a Volvo T5 four-piston set up.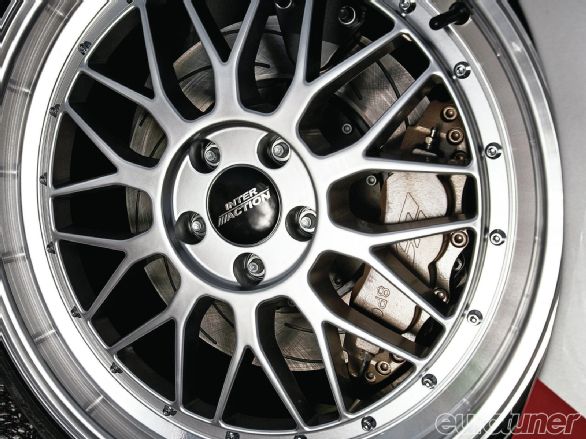 For drifting, a hydraulic handbrake was connected to the rear wheels, while the front wheels have a separate cable system operating tiny Wilwood calipers that are used solely for parking and registration purposes.
Bringing more technology to the classic VW Caddy is a custom drive-by-wire system. It uses an RC-servo to wirelessly transfer throttle inputs from your right foot to the engine.
The gear linkage is a bit more basic, however, but still ingenious. The linkage was inverted and reversed to interpret shifter inputs for the gearbox.
Central seating
Climbing in over the steel tube chassis, Marty sits centrally in a Cobra racing seat. It's a McLaren-esque solution to driver positioning that also means there's no room for passengers. However, Marty had his reasons. "Since I have a wife, I don't need to pick up girls!" he laughed.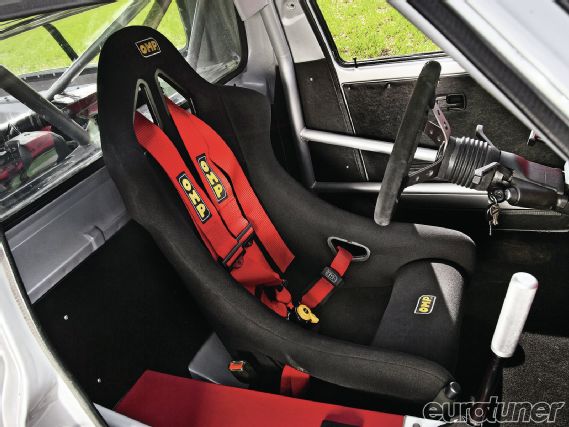 Seriously though, the floor was raised to give the Caddy its stance, to where he simply couldn't fit otherwise. So the only choice was to put the seat in the middle.
The interior is functional, combining original panels with a custom dash in red and black leather. The shift knob was raised high and the driving position tailored to the owner's measurements, so the ergonomics are subsequently spot on.
The hardtop over the cargo bed isn't a common feature on a performance car, but totally to the builder's liking. Finding it hard to locate the original Volkswagen part, Marty finally found this one near the Arctic Circle in Northern Sweden in the small town of Bjurträsk. "The guy I bought it from used it as a kennel," he chuckled. "Maybe I'll run the car as a pickup one day, but first I have to build a full engine cover!"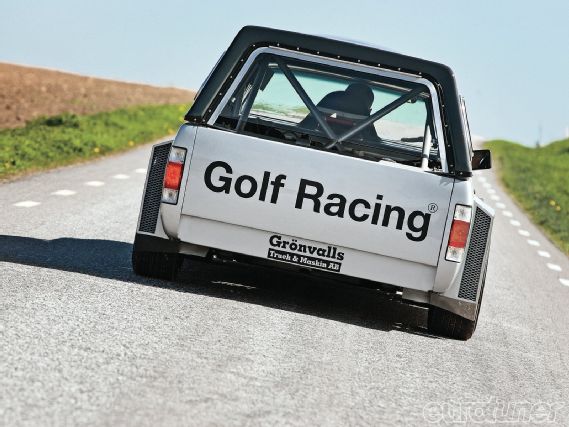 Metal widebody
The exterior design process started with sketches over standard Caddy blueprints. Using computer software, Marty created an outline for his build. Combining his own taste with S1 quattro-style influences straight out of Pikes Peak, the bodywork was a totally custom creation.
Sheet metal was formed into sharp, staggered fenders with pure Group B flair. It has slats in the hood, scoops galore and a hefty front splitter. The radiator was placed behind the left-side intakes, stealthily drawing cold air, while the intercooler and oil cooler do the same on the right.
The car was completed by House of Paint in a sleek silver, with red and black graphics as an S1-style homage to '80s tarmac thrashers. "I spent months just sanding the body, not to mention the hundreds of hours constructing the panels. But it was all worth it for the result," Marty added.
"Getting government approval was a dream come true. Starting more than three years ago welding four tubes together, I now have a street-registered car!"
Ending 2011 with both the Jury's- and Builders' Choice at the Oslo Motor Show in Norway, and grabbing the Best Performance Car trophy at the Scandinavian Custom Show in Denmark, Marty has received lots of praise for his Caddy build. So during the frigid Swedish winter, he plans to embark on a new, secret project. What it is?
You'll know it when you see it, but it won't be a slowpoke. Marty has bought a 500hp Volvo T5 race engine for the new car, but confess it might find its way into the Caddy before reaching its final destination in the new project!
To see video of Marty's VW Caddy in action, check out the jmartyc channel on YouTube. It proves this crazy creation isn't simply for show.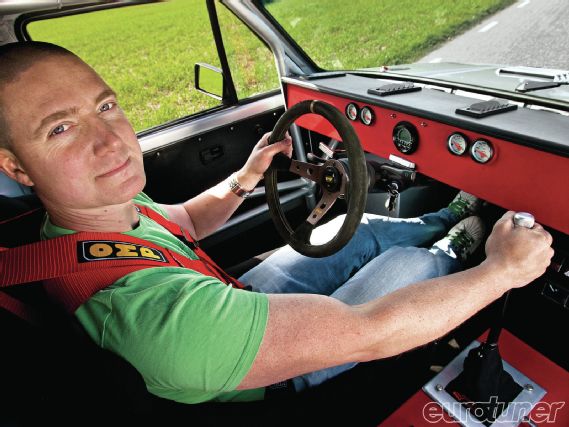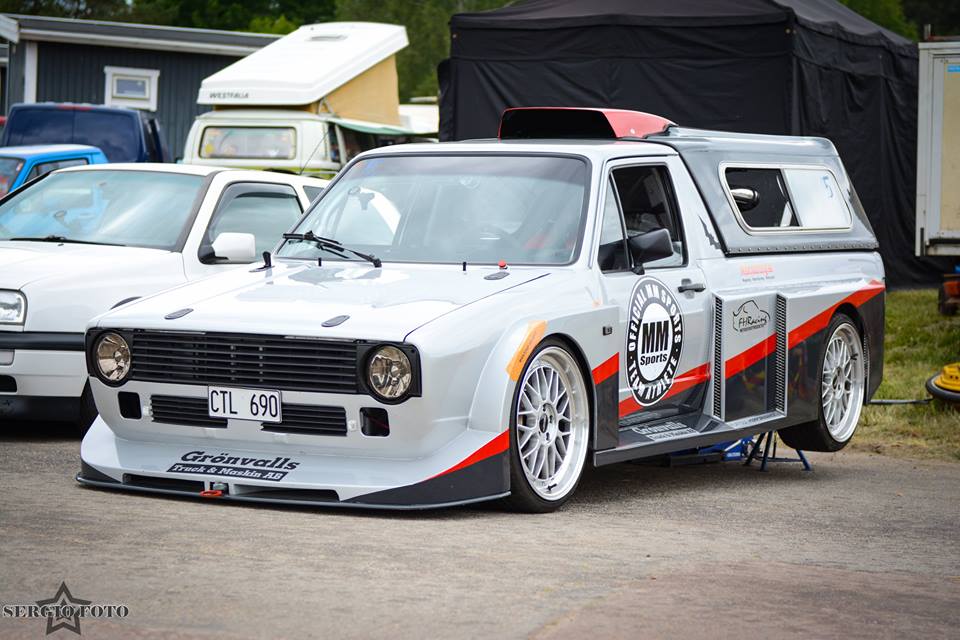 Go or no go?
Leave a comment