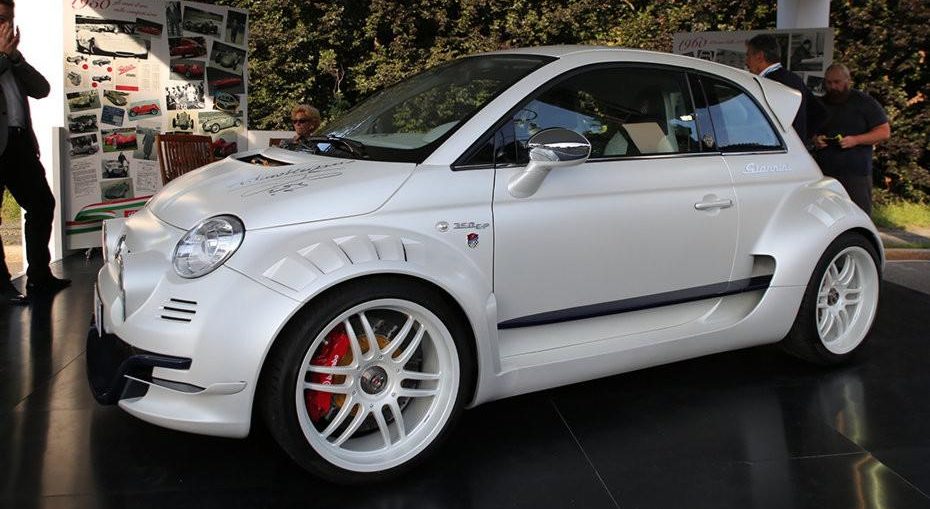 Here we have this extreme Fiat 500 at the 2017 Best of Italy Race event last weekend and it's called Giannini 350 GP Anniversario.
The car has been conceived and realized by Gran Torino Engineering in order to celebrate the 100th anniversary of the famous historic Italian tuner Giannini (very popular in the Sixties & Seventies).
Of course almost nothing remains of the original 500: starting from the external look, the whole body is made of carbon fibre, huge 19" forged wheels and Brembo brakes (six-piston calipers at the front, four-piston calipers at the rear).
The 350GP is powered by a tuned mid-mounted 1,750cc turbocharged engine taken from an Alfa Romeo 4C which is able to reach 350bhp (power that can manually be adjusted from the inside), released to the ground on the rear tyres.
It also features pushrod suspensions with Öhlins coilovers both on the front and rear of the car. The one you see in this video has a manual gearbox but the 350 GP could also have the double clutch gearbox from the Alfa 4C.
Fully customizable but no more than 100 will be built starting from a price of 150,000€! Thats much money for a Fiat 500 if you ask me.
Watch the video below, share this one with your friends and leave a comment or share this one with your friends. Follow us also om Facebook!
Leave a comment