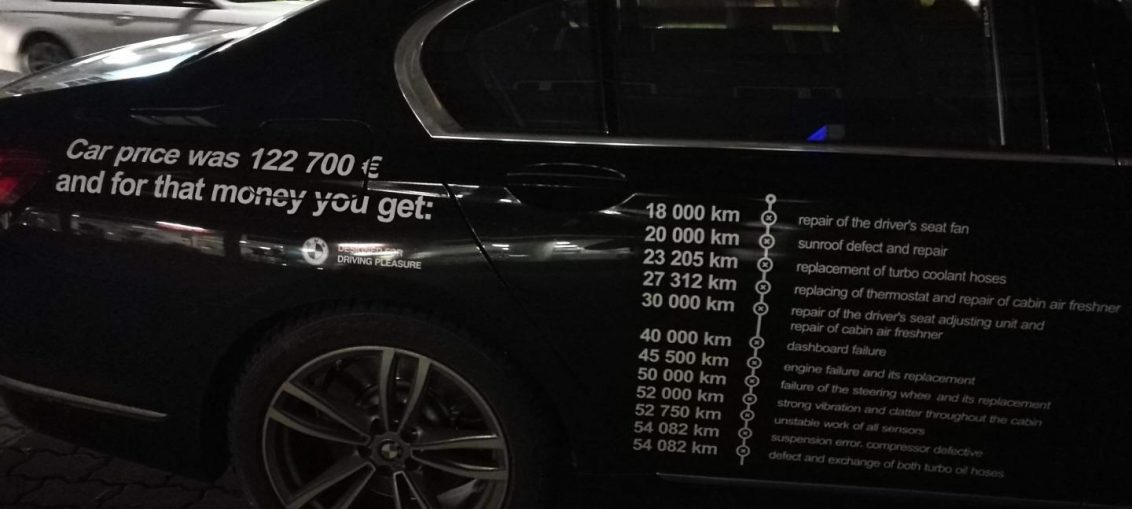 That direction indicators often break down at BMWs is a known problem. The drivers are very courteous about that: if you alert them, they put their longest finger as a thank you. Or are we now generalizing? LOL
Anyway, there is more going on with this guys BMW from Estland. Since he bought his BMW 750i, he has been so many times back at the dealer.
Instead of working his car with an ax on the sidewalk of the BMW headquarters (will not be the first time), this disgruntled BMW customer decided to put all his repairs on his car.
Start of the problems
The problems started after 18,000 kilometers with the interior fan on the driver's side. Less than 2,000 kilometers later the roof window was next.
During the 25,000 kilometers that followed, especially the dashboard and all electronics systems had a hard time.
Even the engine died
At 45,500 kilometers it was too much: when the engine died and a new one was needed. In between, the chassis also began to show cures.
But it didn't stop there.
Both turbos died 10,000 kilometers later. According the owner and the sticker, it doesn't have also the 450HP that the car must have.
How is this all even possible for a stock car?
The discontented BMW customer addresses BMW and the Inchcape Motors dealer in Estonia. In our opinion, even if the guy used the BMW "good" it shouldnt give this much problems.
Liked the post? Share this one with your friends and don't forget to follow us also on Facebook!
Leave a comment