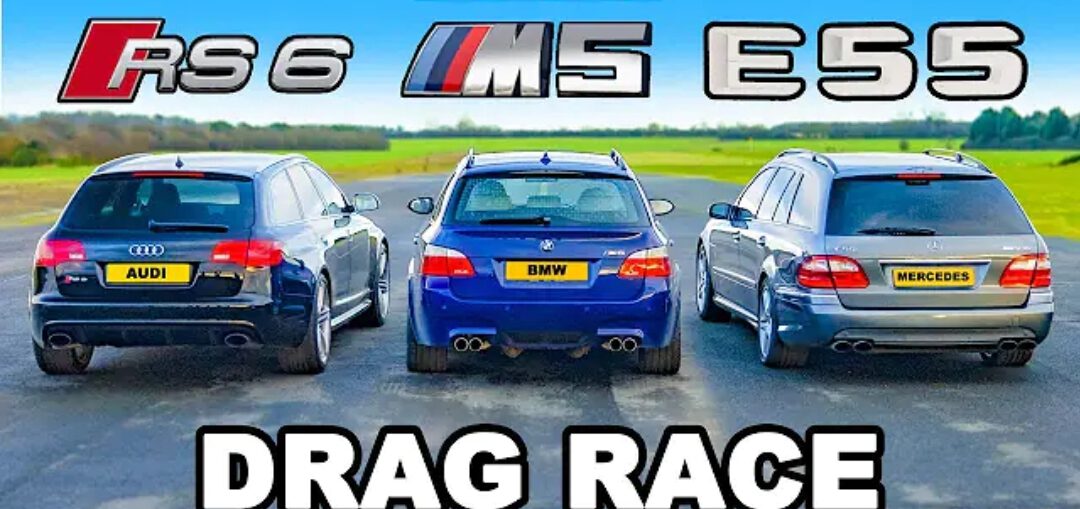 It's time to find out which estate from the 2000s was the fastest! We've got the Audi RS6 C6, the BMW E61 M5 Touring and the AMG E55 Estate lining up to do battle over the quarter-mile.
First up we have Mat in the RS6, which is powered by a 5-litre twin-turbo V10 to deliver 579hp and 650Nm of torque. It weighs in at just over 2-tonnes, and it also comes with Quattro all-wheel-drive! As for the BMW, it's hiding a 5-litre naturally-aspirated V10 up-front, which puts down 507hp and 520Nm. It weighs a fair bit less than the RS6, coming in at 1,880kg, but unlike the Audi it's just rear-wheel-drive.
Finally we have the AMG E55, which houses a 5.4-litre supercharged V8. It delivers the least power, with just 476hp, but it has the ability to put down 700Nm! And just like the BMW, it's just RWD. Surely it'll be a walkover for the Audi, right?! There's only one way to find out… LET'S RACE! Follow us also on Facebook, Pinterest or Instagram!
Leave a comment