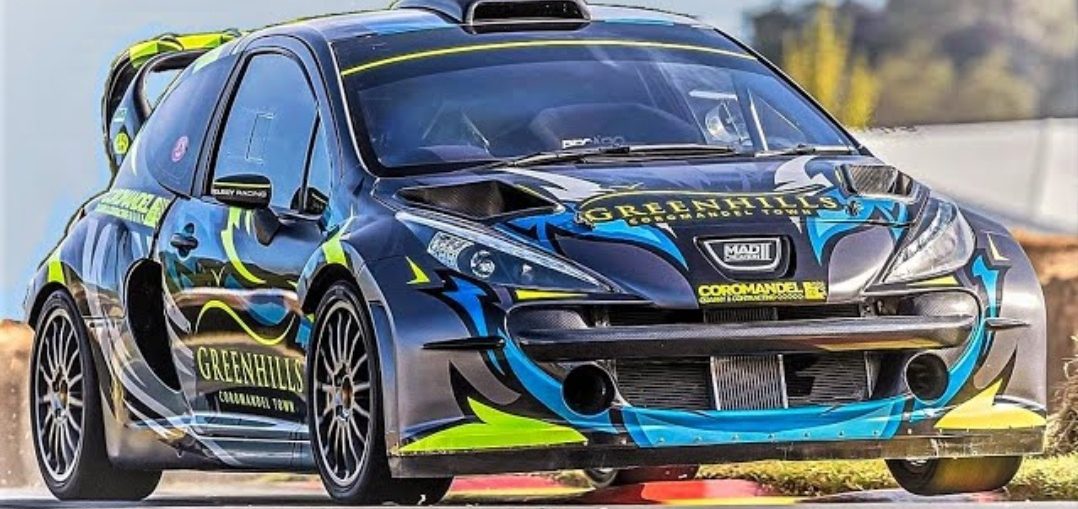 This is Alex Kelsey´s Mad Creation 2 ( MC2 ), one of the most unique Rally Cars of the Modern Era, powered by a 450Hp/8.500Rpm Formula Renault 3.5 V6 Naturally Aspirated Engine, delivering an almost unbelievable Soundtrack.
Built on Mr. Kelsey early 20´s, this New Zealand product was originally intended for Rallying, and having won pretty much everything, it has been stopped now for around 5 years.
Now for Leadfoot Festival 2020 it was possible to watch once again this Custom Built Monster, and fighting for the Overall Victory on the event. After being consistently 2nd or 3rd fastest during all event, it would finish 5th on the final Top 10 Shootout.
The MC2 (Mad Creation2) is a totally Custom Built Tubeframed machine, weighing only 1000Kg. Adding to that incredible mid-mounted Formula Renault V6, producing 450Hp/8.500Rpm to All 4 Wheels, it features a 6 Speed SADEV Gearbox with Paddle Shifter.
The bodywork mimics the Peugeot 207 Rally Car but is entirely made from carbon and fibreglass. It is capable of sprinting from 0-100Km/h in 2.6-seconds and reaches the 200Km/h mark in 7-seconds.
Let´s hope this mark the beginning of a prosperous Hillclimb career for this Monster….Share this one with your friends and follow us also on Facebook, Pinterest or Instagram!
Leave a comment