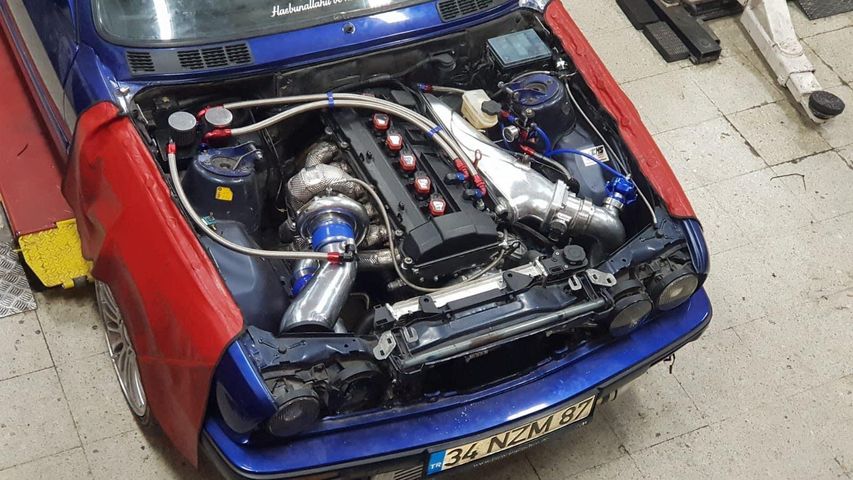 Another awesome feature of one our followers! In our last feature we shared Mario's 1300+HP 2JZ Toyota Supra MK4! That was also a build that definitely needed some attention and to be shown to the world. Now we have another awesome build, this time from Turkey! The country were finding parts for some builds isn't as easy as finding them in the US or in Europe for example. So we respect these guys a bit more, cause it isn't easy to build a machine like this one!
Nazmi Dogan the owner of this E30, has been a big fan of BMW for the last 15 years, especially the older E30 model. At first, 4 years ago when he bought the E30 his goal was to build a quite simple E30 Turbo with around 400HP, that should be enough he thought. Till he went for a ride in a faster car with the guy he was gonna let his car build. The goal was immediately set at a higher point, 750HP at least!
The people around him and in his city looked down a little bit on him, because they thought he wouldn't be able to make it. He made ambition, he said "I will build such a machine that I will finish those who despise me, and thanks to my lord I was able to finish that build". Here we are now, sharing that machine producing 1050HP !
It's powered by a M50 BMW Engine with 2.8L displacement with completely forged internals! This all being fed by a BIG Precision Turbo PT6870, which is even able to produce 1150HP! Ofcourse is this all coupled to a BMW 6 speed transmission from a BMW F11 520D, with a 3.45 diff and twin plate disk. Wheels are BMW original Style 32 with 255/40/17 Toyo R888R Semi Slicks on the rear axle which provide enough traction for this beast. His 100-200 without NOS is at the moment 4.1 Seconds! With the NOS it should easily be able to do in the 3 seconds! What the hell!!
At the moment, it's the quickest RWD and Quickest E30 BMW in Turkey. Below you will find a compilation video of this Turbocharged E30 beast and some awesome pictures so you can see this beast in detail! You can follow him on Instagram @34_NZM_87, go check it out! Hope to see you guys on our website in the next feature! Wanna get featured with your build? Send us a message on Facebook!
Leave a comment