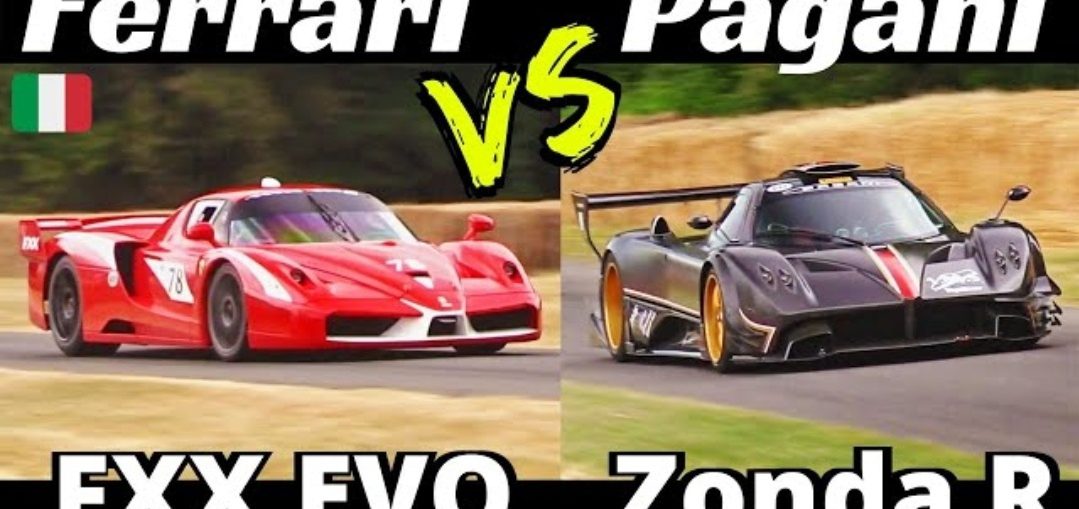 Here the comparison between Ferrari FXX Evo vs Pagani Zonda Revolucìon. Both equipped with epic V12 N/A engines, performed at the 2018/2019 Goodwood Festival of Speed ​​FOS. Which one has the best sound?
The FXX was produced from 2005 to 2006 in 30 units taking as a basis the Enzo raising performance in every aspect. Its V12 is passed to the displacement of 6.262cc with a power of 800 bhp moving on to the last stage, the Evoluzione, of 860 bhp for an empty mass of 1.155 kg. Performance, as you can imagine, is frightening with 2.8 sec. from 0 to 100 km/h and a top speed electronically limited to 345 km/h. Without speed, limiter could reach 390 km/h.
The mechanical and aerodynamic is exquisite, six-speed F1 gearbox, traction control with nine positions, full telemetry, diffuser and wing sections for maximum downforce. The FXX was the first car project destined to few lucky owners/testers, usable only on the track. Despite the price at the time of $1.8 million, all the 30 cars were sold immediately.
The Pagani Zonda Revoluciòn is the most extreme version of the Zonda model, conceived exclusively for the track and powered by the enormous V12 naturally aspirated engine by Mercedes-AMG. It's a 6.0-litre displacement, capable of generating 800hp and 730Nm of torque.
At the wheel the test driver Andrea Palma who led the 1.070kg of mechanics and carbon fibre on the Goodwood climb. Produced in 5 units and with a launch price of over 2 million 200 thousand euro is one of the most performing and exclusive Hypercars in the world.
Leave a comment