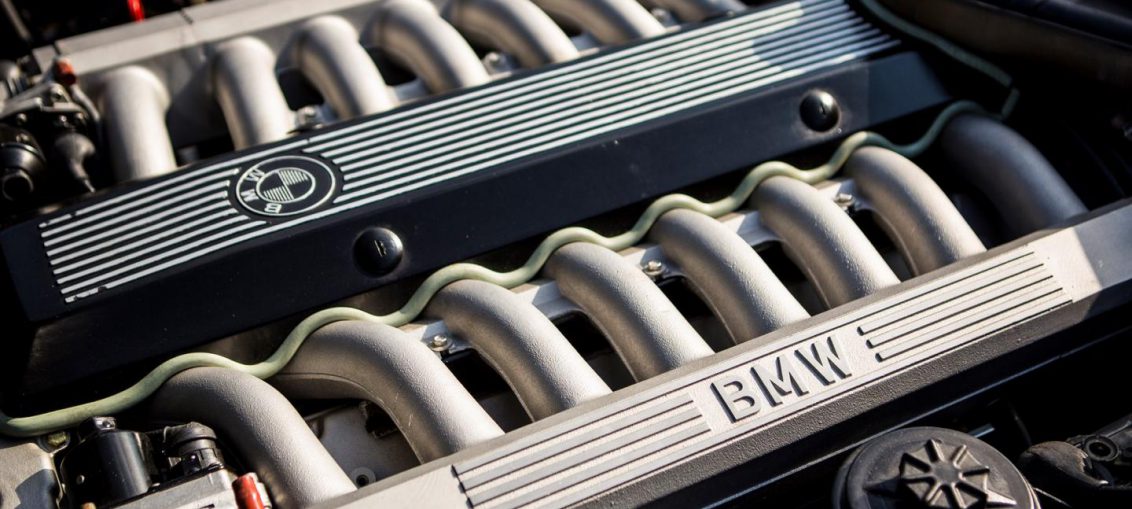 No, this is not a unfinished Rieger or Koenig project. This is the goldfish, as BMW calls the foolish project affectionately. According to the car manufacturer, "this is what happens when you give engineers room to do some creative things".
In 1988, a year after the start of the project, the brand unveiled this BMW 767iL, with a 6.7-liter V16. Just like the BMW 5-series Touring with McLaren F1 engine, they built only one 767iL.
For the V16, the ingenious engineers took the existing 5.0-liter V12 out and put a modified 6.7-liter. It was the elongated versionof the V12 block. The large lump of aluminum weighed 310 kilos in total and the engine capacity increased to 6.7 liters. The power of the engine with a few camshafts (per cylinder bank) increased from 299 hp to 408 hp and 613nm of torque! 280KM/H Topspeed and 0-100 in 6 seconds!
This is not much compared to another well-known sixteen-cylinder engine with 1600 horsepower, but remember that these were the eighties and that BMW did not mount turbos on the engine.
The air intake on the rear screen suggests that the engine is on the rear axle, but that is not true. The bite on the rear flank feeds the cooling systems that lie in the boot, probably because there was no room in the engine compartment due to the 16-cylinder engine. The BMW 767iL is still in storage and may occasionally go outside for events or a photoshoot.
WHY DID THE BMW 767IL NOT COME?
The prestige project was purely to show what BMW is capable of. A series production for the BMW 767iL was never planned. Other sources also report that BMW wanted to prevent the V16 from starting the pricey motorcycle race between the German Three. The engine capacity of 6.7 liters was found a little later at Rolls-Royce, which used the stroke volume for the twelve-cylinder in the Phantom.
Leave a comment