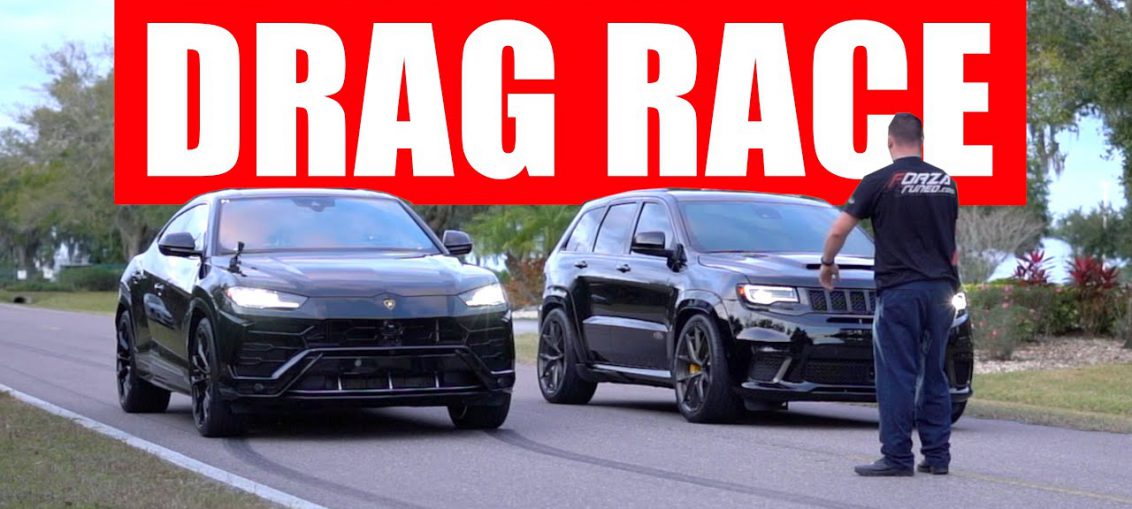 Join Brenton Brown and the Forza crew as they test the limits of a super sports utility vehicle. Under the microscope today is a contest between two of the most powerful SUVs in the world – the Jeep Grand Cherokee Trackhawk and the Lamborghini Urus.
As the most powerful SUV ever produced in America, the Jeep Trackhawk may be considered in a class by itself. However, when we compare the Jeep Trackhawk to the Lamborghini Urus, we find that the Jeep Trackhawk is a bit overweight (513-pounds) – despite being 4-inches shorter and 3-inches narrower – when compared to the Lamborghini Urus.
The Jeep Trackhawk is loaded with a supercharged 6.2-liter HEMI V8. This ain't just any old HEMI; it is the same setup that you will find in the Dodge Challenger Hellcat. Not only does it have a fat intercooler, it also uses the on-board air conditioning system to chill supercharger components between rounds. 707hp at 6,000 RPM and 645 lb.-ft. of torque at 4,800 RPM.
If all that seems outrageous, consider the fact that this state-of-the-art powerplant is sitting in an all-wheel drive SUV. Riding on 245/45WR20 tires, the Jeep Trackhawk has no problems finding traction. What about the competition?
The Lamborghini Urus is not only lighter than the Jeep Trackhawk – it's one of the lightest SUVs in the segment. Powered by a twin turbocharged 4.0-liter V8 engine, it's also one of the most capable. With the capacity to churn out 641hp at 6,000 RPM and 621 lb.-ft. of torque at 2,250 RPM, the Lamborghini Urus is well equipped to throw down on the street or strip.
Just watch the video below to see what happens and share this one also with your friends. Follow us also on Facebook, Pinterest or Instagram!
Leave a comment