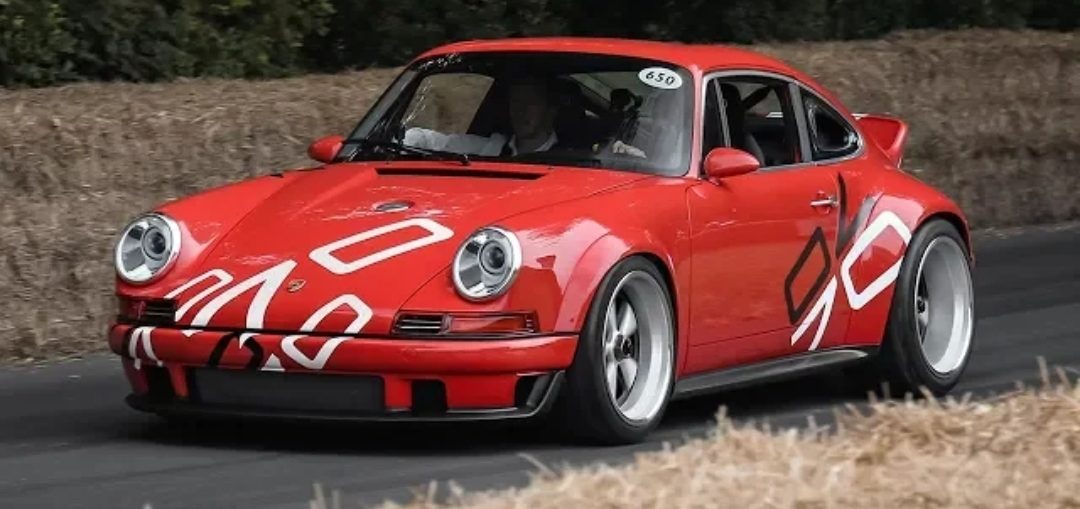 Which was my favorite car seen during the 2018 Goodwood Festival of Speed? I'd say this one and it was unveiled by Singer, a California-based Porsche restorer company famous for its incredible quality reimaginations of Porsche's 911s. The DLS ("Dynamics and Lightweighting Study") is their last creation.
The entire project is a result of a client's commission, who wanted Singer to improve the performance and reducing the weight of his Porsche 964 (Singer will modify 75 other cars with the same or similar upgrades), and the collaboration with Williams Advanced Engineering and two legendary Porsche engineers.
Engine has been fully developed by Williams and legendary Porsche engineer Hans Mezger. It is a 4.0-litre air cooled NA flat-6 engine that is able to produce up to 500hp at 9,000 rpm. This thanks to the use of quality materials: four titanium valves per cylinder, twin overhead magnesium cams, lightweight throttle bodies with F1-style upper and lower injectors and a modified oil system.
The outside body is now full carbon-fibre and the aero has been studdied and modified in order to improve everything. Suspensions has been fully revised and developed by Williams too while the 6-speed manual gearbox has been produced by Hewland.
The interiors are simply what I called "work of art" with Recaro lightweight seats, carbon fibre everywhere and carbo-titanium pedals. WWhat I love the most is the exposed gearshift.
Hear and watch one of their 911 DLS prototype running up Goodwood' hillclimb course!
Leave a comment